Featured Workshop Now Available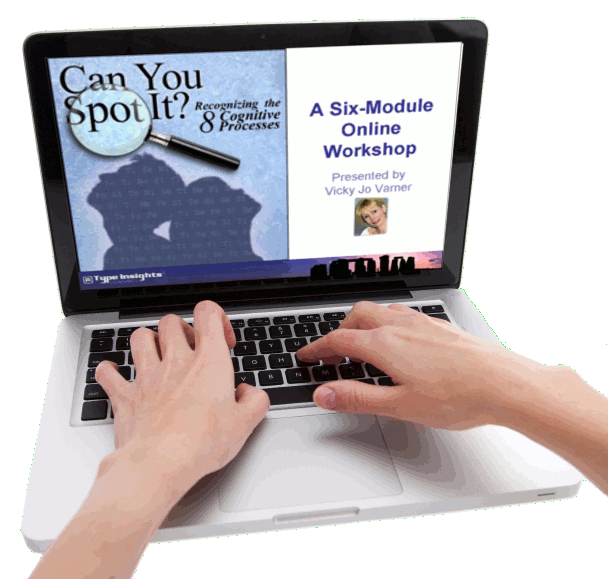 Can You Spot It? Recognizing the 8 Cognitive Processes

» On-line, Self-paced, Animated, Multi-Media Learning Experience
» Achieve Type Spotting Mastery in Just 7 Hours
» In-depth Learning About Jung's Eight Cognitive Processes
Click here to learn more!
$159.00 $129.00 for a 90-day single-user license.







Here's a Preview
So what's a Virtual Workshop?
A Virtual Workshop is a structured online training course featuring narrated slides with valuable information, along with surveys, quizzes, and homework. Because up to 87% of the population are visual learners, these programs teach the way people are naturally wired to learn. Our Virtual Workshops offer you the ability to navigate the material according to your own learning style and pace. Each Virtual Workshop includes clickable links to a wealth of additional resources, including articles, websites, and books.
What's a Virtual *Type* Workshop?
Understanding human nature is an ongoing quest for everyone, and psychological type is a popular framework or model for understanding and appreciating differences. Its applications encompass a variety of concerns, including personal growth, relationships, career, and parenting, among so many others. The MBTI™ assessment is taken by millions of people each year, but most don't use its results effectively. Virtual Type Workshops seek to redress that situation by providing informative, easy-to-use online training modules that enhance your knowledge of this rich and complex topic.
More Workshops in Development — Coming Soon!
Psychological types is a rich, diverse topic. Other workshops are in development now and will be added as soon as possible. Check back regularly or (better yet!) add your name to our mailing list so that you are automatically notified of new offerings.